<![if !vml]>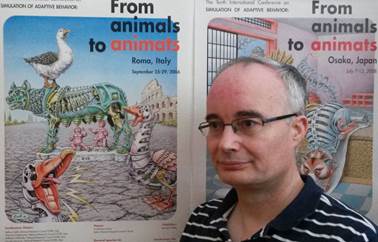 <![endif]>

José Santos Reyes
Full Professor of Computer Science and Artificial Intelligence

<![if !vml]>

<![endif]>Versión en español
Computer Science Department
University of A

Coruña


Campus de

Elviña


15071 A

Coruña




Telephone: +34 981 167000 (Ext 1257, Ext 1276)

Fax: +34 981 167160


Email: <![if !vml]>

<![endif]>
---

Research
Neural Computation
Evolutionary Computing
Autonomous Robotics

Publications

Teaching
Research
DTB (Discrete Time Backpropagation) algorithm in neural networks with variable synaptic connection temporal delays. Applications in chaotic time series prediction and dynamic reconstruction, QRS complex detection in ECG

, ....

Gaussian Synapse Networks for pattern recognition.

Hybrid connectionism symbolic systems.

Neural models of Central Pattern Generators (CPG).
Evolutionary Computing.

Main works:
Evolution of recurrent neural architectures.

Evolution of cognitive models for autonomous robots.

New models of evolution (macroevolution).

Parallelization and distribution of evaluation in evolutionary algorithms.

Combination of learning and evolution. Baldwin Effect study.

Use in artificial life models.
Autonomous robotics

. The fact that a robot is autonomous means that it cannot be totally preprogrammed and it must react adequately in situations not foreseen in its previous programming. Thus, the adaptation capability is essential in autonomous robotics. We follow the behavior based robotics trend, and within that, up to a great extent, the evolutionary robotics line, particularly when we use simulated evolution as a method of generating the robotic behaviors -what implies sharing lines of artificial life-. We work with our robots (Pioneer DX, Pioneer 2-AT, Hermes II, Rug Warrior and

Aibo

) mainly in:
Incorporation of neural controllers with temporal information treatment.

Methodological and practical development of generation and interconnection of behavior controllers.

Models of control cognitive mechanisms.

Visual processing systems for autonomous robots.

Reinforcement learning.

Neural control of biped structures with adaptive CTRNNs and with Synaptic-delay based NNs (more examples with hexapod structures).
Bioinformatics.

Main works:
Protein secondary and tertiary structure prediction and modeling of protein folding.
Prediction results of SARS-CoV-2 proteins
<![if !supportLists]>· <![endif]>Study of the genetic code optimality
PhD students in these research topics are welcome. Contact me for discussing opportunities.
<![if !supportMisalignedRows]>
<![endif]>
Books
<![if !vml]>

<![endif]>

<![if !vml]>

<![endif]>
Vida Artificial. Realizaciones Computacionales. (Artificial Life, in Spanish)


<![if !supportLineBreakNewLine]>
<![endif]>

<![if !supportLineBreakNewLine]>
<![endif]>
<![if !vml]>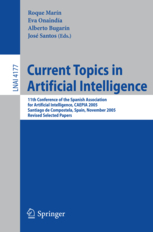 <![endif]>Current Topics in Artificial Intelligence. 11th Conference of the Spanish Association for Artificial Intelligence, CAEPIA 2005, Revised Selected Papers, Marín, R.; Onaindía, E.; Bugarín, A.; Santos, J. (Eds.), Lecture Notes in Artificial Intelligence, Vol. 4177, 2006.
<![if !vml]>

<![endif]>
Part of our work can be followed in Biologically Inspired Robot Behavior Engineering.
<![if !vml]>

<![endif]>

Our book, in Spanish, Evolución Artificial y Robótica Autónoma, details the evolutionary robotics discipline.

<![if !supportMisalignedRows]>
<![endif]>